Our automated timekeeping solution was designed for employers, supervisors and employees to accurately capture and record hours worked and to be compliant with the Department of Labor (DOL), Fair Labor Standards Act (FMLA) and the Affordable Care Act (ACA) regulations.
Why Use Automated Timekeeping?
<iframe width="560" height="315" src="https://www.youtube.com/embed/Pibd3mN2UjQ?rel=0&showinfo=0" frameborder="0" allowfullscreen></iframe>
Our system will help you reduce labor and clerical costs, eliminate errors and make preparing for payroll easier than ever!
Beyond convenience, one of the greatest benefits of implementing an automated timekeeping system is how it can often pay for itself and the cost of payroll in annual savings such as:
Cut Labor Costs
Eliminate punch approximations
Reduce Clerical Costs
Reduce human error, cut administrative time
Improve Employee Habits
Eliminate "buddy punching", reduce late arrival/early departures
Employer Compliance
Labor dispute protection, department of labor compliance
Employee Accountability
Track salary & hourly employees, punctuality, increase productivity
Convenience
Eliminate paperwork, access records immediately online
Supervisor Visibility
Track employee behavior, improve staff coverage tools, view by employee
Garnishment & Child Support Payment Services
Scheduling
View, plan then track – improve labor coverage strategy
Employee Morale
Eliminate burden of manually tracking time, ensure payroll accuracy
Go Green
Eliminate paper timesheets / cards
Manage Growth
Control costs, manage staff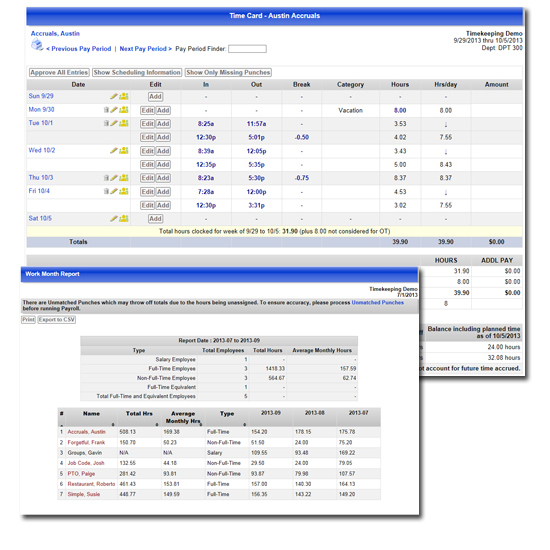 Key Features of our System: 
Employee Self-Service (ESS)
Employees electronically sign timesheets with 'I certify statements'
Electronic supervisor approvals
Edit multiple time cards simultaneously
Holiday, PTO, vacation/sick day tracking
Job code, department, location, shift tracking
Daily Auto E-mail Report
View who is In/Out
Custom tracking for tips, bonuses, commissions, pay rates, etc.
Custom pay types/categories
Automate overtime calculation & tracking
Sort and filter reports
Punch data collection – clock in via a web portal, physical clock, mobile device or a combination of these options
Custom payroll file import
Learn more about our automated time and attendance systems.